Investing in Australia's business future
You may not have heard of Search Funds. It's a popular US investment model that matches entrepreneurs wanting to take the helm of a successful business, with investors looking to back the person rather than a deal.
The concept was formed in the 1980s and pioneered by Prof. H. Irving Grousbeck, co-founder of the Center for Entrepreneurial Studies at the Stanford Graduate School of Business. The search fund was set up to help recent MBA students finance their path to entrepreneurship.
Essentially, it is an "entrepreneurship through acquisition" model whereby investors back a promising individual, known as a "searcher," and pay them a nominal salary and expenses as they hunt for a business to acquire and take over as CEO.
The article Are We Entering The Age Of The Search Fund? by Andrew Seale of Firmex neatly explains how Search Funds work.
Backing up the article's main premise is Karen Spencer, COO of searchfunder.com who claims the number of search funds has grown by 428 percent over the past half-decade (in the US), climbing by 40 percent each year. "There's also the global expansion—now that there have been successful search funds in other markets, people are looking to do that."
There have been some stellar success stories in the US, including that of Chris Hendrickson who raised a search fund to become the owner of healthcare business VRI, which he and his partner grew to over $30 million in revenue before selling to a private equity firm.
There is also Karen Moriarty, CEO of Carillion Assisted Living. Karen has taken Carillon from a fledgling start-up to the most highly regarded assisted living provider in North Carolina.
Now, the concept is beginning to gain traction in Australia.
Australian search fund advocates Ak Sabbagh and Lui Pangiarella believe the model has great potential here due to a large number of successful baby boomer founded businesses that require both succession in the coming years and/or a new injection of knowledge, enthusiasm, and funds to take them to the next level.
"We are spreading the word that this concept is a viable and exciting investment opportunity in Australia," Sabbagh says.
The Perth-based pair is introducing the model to the Australian investment market through their accelerator business, Second Squared. They will work with searchers, investors, business owners and industry mentors to create and nurture an eco-system in which search funds thrive.
What led to the Australian launch?
Sabbagh and Pangiarella, who have known each other for 10 years, are both highly experienced business coaches and executives in their own right. Having worked closely with other high-level executives in a coaching and mentoring capacity, both were hearing the same recurring theme from their clients: 'I'm enjoying what I'm doing, but actually what I'd really like to do is run and own my own business and create value directly myself'.
"This is a group of talented men and women who have a desire to go and create value by running a business," Pangiarella tells Finfeed. "These are people wanting to transition.
"I've lost count of the number of times I've heard executives say they want greater control and ability to run their own business. There hasn't been the mechanism to get into a business that will actually suit them," he says.
On the other side of the equation are the existing businesses: family-owned businesses that are looking at a transition plan because the Internet generation want to do their own thing; businesses whose owners have not planned for exit; start-ups that need help with operational expertise; or companies that just need help to grow.
"You have this waterfall effect within businesses that need to transition, but if not dealt with properly can have serious ramifications for the business and create a broad issue in the economy. There are 60, 000 businesses in the $5 to $20 million revenue range, a lot of them are family owned and many of these will transition to new owners in the next five to 10 years."
Where there is a problem, there is also an opportunity. However, the solution isn't a one size fits all approach. Staged exists and long-term transitions have to be taken into account.
"Then you have other environments, where you might have partnerships with multiple investors having bought in and run the business," Sabbagh says. "What you generally tend to find is that their approach to succession or exit tends to be individually driven. You might have four or five partners, each at different ages, each wanting to exit at different times. That can be quite complex.
"It all needs to then be ratcheted correctly, where every person gets their outcome. We're talking about a market sector where 'your business is your baby'. It's been your livelihood, it's been your legacy. It might be easier just to go, 'All right, I'll sell mine to a venture capitalist or somebody can buy me out', but even in those cases, a lot of business owners are saying, 'Look, I've built this business up over 20 years. I have got 20, 30, 40 staff and their families. Somebody buys me up, chews me out, and kicks these people out then what have I done?' There's a lot of emotion attached, so we need to work with that side of the equation as well. Ensure that the baton is passed over correctly."
The Search Fund model takes these issues into account. It works in the following way:
An entrepreneur aspiring to run their own business (the "searcher") who raises initial capital from investors to fund a targeted search (which can take anywhere from 12 to 30 months).
The searcher works with those investors over the course of their search and then seeks additional capital from them, and potentially others, for an acquisition once a suitable target is found.
Following the acquisition, the searcher takes over as CEO and runs the acquired company with the objective of creating value for themselves and their investors.
In which case everybody wins. Existing owners get the deal they want (or close to it), entrepreneurs transition into business ownership, staff and families are protected and the intrinsic value is shared amongst everyone.
Sabbagh and Pangiarella facilitate this outcome.
"The thing that we both bring to this is that combined, we have over 30 years experience in making sure that people are successful, according to how they define success. The thing that I think we both do really well is listen to what our clients need, what they want, and then help them," Pangiarella says.
Sabbagh agrees and says, "I think the other thing that is common to both Lui and I is a real passion and desire around the concept of entrepreneurialism. Lui grew up in an entrepreneurial family, and I didn't. I learned that trade. I'm passionate for it as well and have been on journeys looking to acquire businesses.
"About three years ago, Lui said to me, 'Well, you're looking at the wrong kinds of business. Why are you looking at a million dollar business that you want to turn to $5 million? Go and find a $10 million business and make it $100 million business'.
"That set us on a path which led us to hear about the Search Fund concept. We spent a good 18 months researching it, talking to people around the world and talking to people in Australia. There was zero recognition of the concept in Australia, but enough were intrigued for us to know that there was something behind it."
By May last year, the research was complete and it was time to test the waters.
By June this year, the first program will be rolled out.
"We're priming the market at the moment with a plan that by June, we will run our first intake of searchers. What we mean by that is in the US, most searchers come through an MBA programme or programme which prepares them to search. They've worked out where they want to play, how they want to play, so they can actually go and talk with investors around that. Nothing exists at any university in Australia around that," Sabbagh says.
Pangiarella continues: "There is no programme, so we built one. By June, we'll have our first intake, if you like, of searchers to get ready to search so that by the third quarter this year as a group they are actually going and talking to potential investors to raise their search fund.
The plan is to run two programmes a year, with room for up to 20 searchers in Australia at any one time.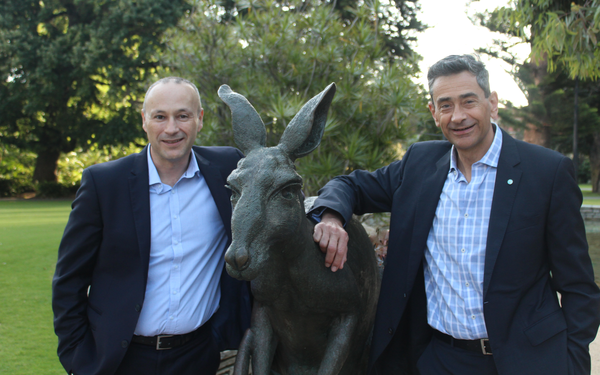 Lui Pangirarella (L) Akram Sabbagh (R) and Roo.
The key elements
Australia is different from the US or Europe, where this concept has also taken off.
"Our business is focused on finding those individuals that have the potential to be an outstanding CEO in a small to medium size business. They come from all walks of life, as is the case in the States. However, in the US, over 70% are freshly minted MBA graduates," Pangiarella says.
"Here in Australia, we think they'll be more often what's termed the mid-career searchers. People who have had seven to 10 years of senior management experience, or are in their next step to ownership. The process that we take them through, helps them focus and identify the kinds of businesses they want to acquire, and then work within our framework that accelerates the pathway to the right acquisition."
Here's how it is broken down:
1. Searchers: They are good at growing value in businesses. They may have completed an MBA and want to apply what they have learnt directly; or Australians working overseas who want to return but there aren't the opportunities at the right level; or people who no longer want to be in the corporate world but don't know any way out without risking their livelihood. They don't want to do a start-up, they would rather make a good company great. The right opportunity could take up to two and a half years to secure, and during that time they need funding to live on. In some cases they want the investor to be a mentor and advisor.
2. Investors: They see value in funding the person because they believe it's the owner that creates enduring value in the business. They invest in the right person by giving them financial backing during their search, for the acquisition itself and also help analyse to buy the right business. Investors have an appetite for risk and are in it for the long-term.
3. Advocates and Supporters: They will help searchers in some way through their journey into and during business ownership. They mentor, consult, and advise searchers and investors and also connect them to organisations that may need to transition.
4. Organisations that need to transition: There are many long-running businesses whose owners have no way of exiting apart from closing down. This is because Australian business culture is not one of handing businesses from one generation to the next. These businesses could take advantage of new ways of doing business. Recent research highlights that 1 in 4 Australian workers are currently employed in one of these businesses.
The process occurs over a two year period.
"Over that two year period, any searcher will look at and identify many businesses and will actually approach about 400. They will probably have discussions with around 30, and ultimately end up acquiring one. It is very much around finding the right deal for that individual," Pangiarella says.
Sabbagh goes further: "Again, one of the experiences we're finding, looking at the States and European markets is that people can sometimes come in with a preconceived notion of where they want to play. You generally find that they've come from a background or an industry and feel comfortable in that industry. What we also explore in the process is supply chain around what the industry may look like, because if you're an expert in blue polka dot widgets there may not be blue polka dot widget companies out there to go and acquire. However, what about the companies that put the polka dots on the widgets or provide components for the widget? It's about extending the thought process to a broader view to pick up other opportunities.
Rolling out
There are better databases, better business brokers, better intermediaries in the US than in Australia. There is a more friendly finance environment. Those are things that exist that the founders of Second Squared know are issues. However, they still see it as a numbers game in the sense of identifying really good opportunities.
Sabbagh and Pangiarella believe there are many in Australia.
"It's a matter of unlocking them," Pangiarella says.
"We want to find the businesses that in the next two years will have a transition event. We need to start to talk and engage with owners, build a relationship with them and build their trust to allow searchers to take on their baby."
Having returned from the US just before Christmas and meeting with some of the search fund investors, one particular character stood out for the pair.
"He was one of the first five searchers ever," Pangiarella says. "He searched, he found, he bought a business, grew value and sold it. He did it again and by the time he was ready for a third round he thought, 'Why don't I just take my wins, my earnings and invest in other searchers?' His fund is now sitting at more than US$100 million."
It is early stages here in Australia and a vastly different market however, success is there to be had by those with a vision.
Certainly, Second Squared has a vision and could change the Australian investment and business landscape.
See original article here: https://finfeed.com/features/investing-in-australias-business-future/